Download
Concerning War Volume 1:
A Collection of Recollections
with Room for Rumination


Front Cover
Front Matter
1.1 King Philip's War
1.2 French & Indian War(s)
1.3 Revolutionary War
1.4 War of 1812
1.5 Mexican Wars
1.6 Civil War
1.7 Spanish-American War Era
2.1 World War I
2.2 World War II - Pacific
2.3 (coming soon)
2.4 Korean War
2.5 Cold War
2.6.1 Vietnam Era
2.6.2 Vietnam Era
2.7 (coming soon)
2.8 (coming soon)
2.9 Afghan Wars
Back Matter
Back Cover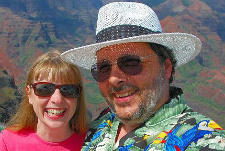 Angela Hunt is a reference librarian who suffered a traumatic brain injury February 14, 2005, and has achieved "a full recovery". Am I Still Me? is her second book since her fall.

Jim Hunt has enjoyed amateur photography and darkroom work since he was a teenager.