Testimonials
"...Angela Huntís poetry tapped into my inner self. I think her poetry is universal because of the way her words pierced my soul with real issues: distress, dealing with sorrow, remembering good, and resolving bad times with loved ones... It brought me to good tears."

From Barbara J. Colhapp, ABEGED National Teacher of the Year, McNight Foundation Recipient, Literacy Advocate, Certified ESL Teacher, Charter Member Human Rights Commission, Chaska, MN; Minnesota State Human Rights Board. Initiated Carver County Senior Partnership, which became the Carver County Office on Aging.


---

"Angelaís unique poems truly touch a caregiverís heart."

From Joan Knuesel, Community/Family Educator, FamilyMeans Caregiver Support Program (http://www.familymeans.org)


---

"The concept of a quick reference for busy chaplains, nursing home, hospital and hospice workers about critical life issues directed to patients and their families is sure to pave the way to do important work. Opening to the discussion page, asking, "Have you talked to your loved one about___?" and using the poem to help stimulate conversation and memories will engage thoughts and begin valuable conversations for both dying persons and their family members."

From Marvel Heath, Nursing Home Administrator, Educator, SAIL, YWCA program director, Board of Directors Lake Auburn Nursing Home, Carver County Senior Advocate for all county providers to the elderly, college Dean of Women.


---

"I loved Going Away. I could hear and see the word pictures she painted. If you look between the lines of the poems, you can see families settling any discord with other family members, a crucial issue in any final stage situation. I tell families four things they need to do:
Say 'I'm sorry'.
Offer forgiveness.
Tell the person 'I love you'.
Release the loved one with 'Goodbye'.
These poems can prompt people to get that done."

From Jacqueline Hassman LICSW (Licensed Independent Clinical Social Work), Medical Social Worker, recovering stroke victim.


---

"Not only do the poems give us clues about what to expect as caregivers, they alert us to our own mortality."

From Dave Lilligren, pastor.


---

"...how profoundly grateful I am for the eulogy and the poems –so beautiful and so healing. They opened up a flood gate in my psyche...I think these poems would be helpful to anyone."

From Janice Day, sister of Robert Carroll; Fort Walton Beach: Nursing Home, Shut-In Program and Senior Advocate; AARP Lobbyist; Catholic Social Services Continuing Education Advocate; Partner with U of Florida Extension Service to coordinate education and social services to women.



Order Now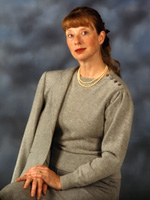 Angela Hunt holds a degree in the Psychology of Communications from Concordia University, St. Paul, MN, and is a grieving caregiver whose father recently passed away. She shares her time with her husband of 35 years, her grown children, grandchild, friends, and close extended family.